In-ground trampoline drainage solutions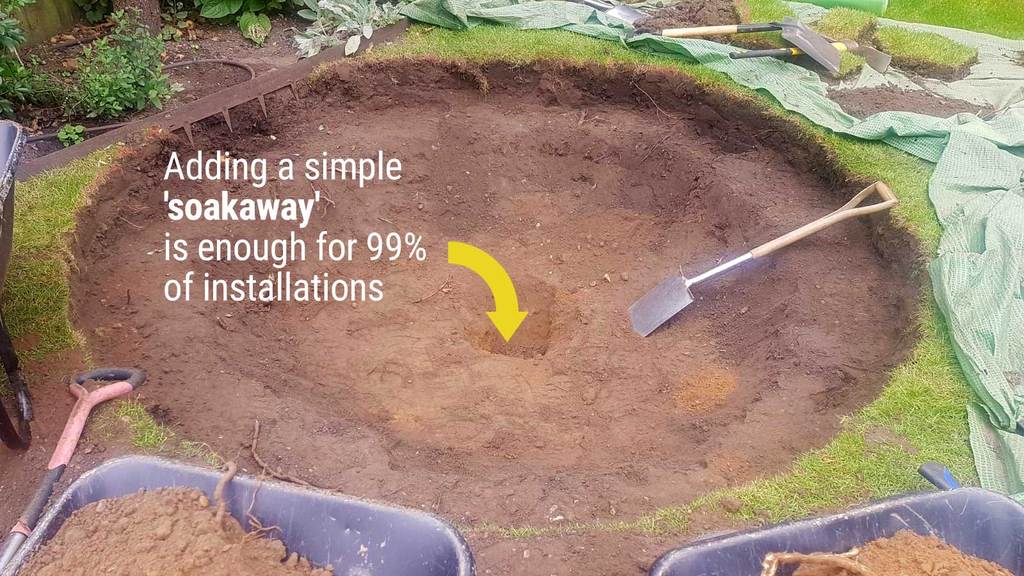 Some customers are concerned that their hole they've dug will fill up with water and make the trampoline unusable. This generally only happens when either you have a high water table or very non-porous soil such as clay.
If you're worried about drainage, the first consideration is whether you want to be proactive and sort the drainage out while you install the trampoline.
The other option is to wait and see if you actually have a problem. It's easy to access the hole after you've installed the trampoline, just remove the surround pads & jump mat. All of the options described below can be done retrospectively, so it's often best to 'wait and see'.
That said, if you are worried or not sure about drainage, then it's quick, easy and inexpensive to build a simple soak-away at the bottom of your hole when you do your trampoline install:
Option 1: The Simple 'As and When' Pump Solution
All you do here is to use a simple surface drainage pump to pump water out of the trampoline as and when you need to e.g. when the hole fills up with water after heavy rain. You take a temporary electrical supply to the pump (just use an extension cable from the nearest power point) , connect  to the pump, put the inflow hose into the trampoline hole and take the outflow hose to another area in the garden and switch on. The picture to the below shows this process.
There are many pumps available - you may want to look at the Sealey one pictured below. It's comes as a complete kit and comes with all the hoses and attachments, just Google: Sealey Surface Water Pump
Option 2: The Permanent Pump Solution
The idea here is that you put a 'submersible' pump into the bottom of your hole and connect to a permanent electrical feed. You will need to dig a trench for the cable and outlet hose (see top picture).
You can activate the connection either by using a switch in your shed or house (wherever you've taken the cable to) or by using a float switch (pictured) right. This makes a connection as the water level rises and moves the float switch into a vertical position which activates the connection.
Option 3: The Drain Pipe Solution
This is only possible if you can take a 4" drain pipe from the bottom of the hole to a lower area in the garden e.g. into a ditch.
This is a very good solution and works really well.  It's easy to install the drain (see below) and is not expensive - it will give you peace of mind & no need for any electrics.